371
Located on the Baltic coast, the project "DUNE" is part of a larger Master Plan, designed by Polish SAS-Studio Architektoniczne Sietnicki, winner of the first prize at the prestigious "MIPIM Architectural Review Fu- ture Project Award" 2016, in restructuring and Masterplanning category at Cannes.
The main purpose of the Master Plan is to build a new city, "Dune City", the city of well-being and relax, with an increasing of housing development already in place. This project includes a series of hotels and residential apartments on the sea, a swimming pool, a large Convention Center, shopping malls, Wellness and Spa areas, along with numerous services, equipped green spaces and parks and playground for children. All this project has to be carried out over an area of about 40 acres of land between the Baltic Sea coast and the lake upon which the city overlooks for a length of about 2.5 Km, whose development and implementation are planned over the next fifteen years.

Among the buildings already started, the first hotel is made by over 200 rooms, including hotel rooms, luxury apartments and suites. Each cell is designed and organized to be autonomous, independent and fully equipped with every possible service: large living room, kitchen, bathroom, bedroom with large windows that lead onto large terraces, externally clad with natural stone that reflects and harmonizes with the colours of the beach, giving a sense of depth over the sea.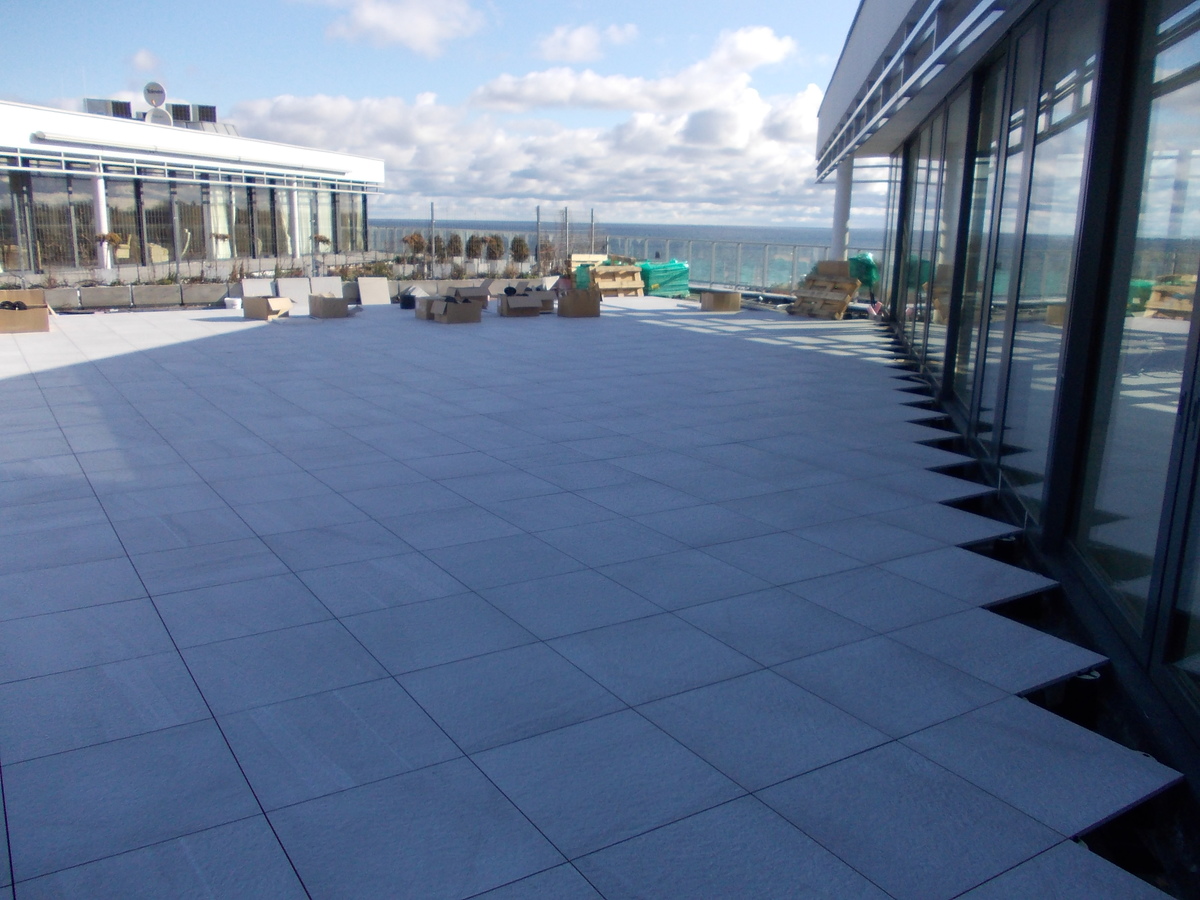 Eterno Ivica has contributed to the project by providing supports model SE3 and SE4, complete with clips for vertical edge, enough to cover the entire perimeter of the terraces, with a total area of more than 1000 square meters. The dimension of the self - sustaining tiles with thickness 20 mm is the classic outdoor 60 x 60 cm.
The technicality and the flexibility of the system allowed the self - leveling head of the Support to compensate the 3% slope which was naturally created, while providing an optimal and quick installation and ensuring the end result. The large scale project, provides for the creation of another luxury hotel: the work should end by the year 2018.