313
The main objective of TEDx Padua this year was to make innovation accessible to all, make it concrete, palpable, bringing an immersive experience to anyone there. And what better location if not a place known and shared by "all": the university of Padua, and its pulsating heart at Palazzo del Bo, home of the Rector and the School of Law of Padua. The installation has attracted many visitors guaranteeing its success.
The old court has become, on this particular occasion, a sort of giant domino game board where each tile became a mirror; a giant kaleidoscope, which, thanks to the many reflective mirrors of the ancient courtyard, presents the audience with a fragmented reality, no longer one sided or equal to itself. The designers expressed it so: "defragmenting the past in order to design the future". The installation, designed and built by architects Marco Cellini and Placido Luise, is mainly based on the concept of TEDx Padova 2017 "Tomorrow, Now".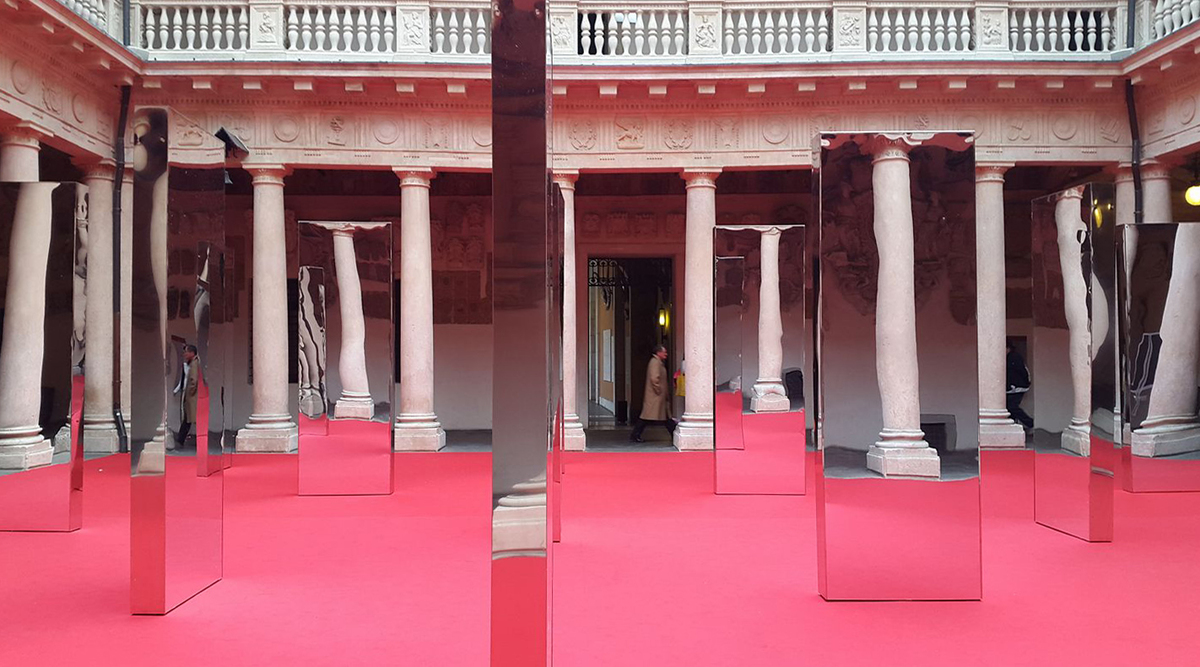 It is minimal, but of great effect: a composition of eighteen panels, covered with slabs of reflective mirror, three meters high, one meter wide and fifteen centimeters thick.
"Riflettendo" is the name of the main installation that has come to life in this magnificent scenario, a play of words: reflecting, reflecting on the past and the time, deconstructing space and making it tangible. The desired effect is the one of distortion of space and familiar realities forcing all those who approach the work to consider and accept new and different points of view.
Everything is then placed on carpet tiles screwed together and raised so as "to wrap" the 250 square meters indoor court. Eterno Ivica contributed in this project with more than 300 supports NM3 of the Pedestal line, guaranteeing a raised floor which is stable, flat and obviously safe.