583
Located in Upper Worli in Mumbai, the towers of the World One Crest are immersed in a strategic position in the most luxurious part of the city. Infact here dwell the exponents of the last and best contemporary industry, famous sportsmen and celebrities; It was created and designed to achieve a rich social and cultural fabric.
The residences are luxurious and with great attention to comfort of all kinds, they have been especially designed to transmit a serene and youthful life experience. Consisting of 3 towers, but with a unique curved shape plan, the World Towers form a breathtaking sculpture of glass and steel, which rises towering into the sky of Mumbai. World One, the tallest residential tower in the world, World View and World Crest, present themselves as a powerful symbol of Mumbai's aspirations absolute and un- stoppable drive.
They are home to a world in itself, private, secret, surrounded by unimaginable luxury that covers nearly 70,000 square meters (about 17 acres) of beautiful landscape consisting of silent, organic urban gardens, walled areas of flowers and pools that cre- ate the right places for meditations and serene reflections. They create an unimaginable oasis of well being and tranquility.
At the center of the complex there is the "GRAND COURTYARD", 10,000 square meters (100,000 sq. Ft. To be exact) of landscape expanse composed of large lawns (great lawns), a naturalist Theatre (Theatre Lawn), a veranda, a café, green hedges and walls of flowers, a spectacular fountain with water jets creates colored water shows. Then there are several pools, a leisure pool, an indoor pool, a children's pool, a pool arranged that those who want to practice swimming, all with water temperature control. Ten floors above with respect to the "green" platform connection we find the Sports Arena, where you can play cricket, tennis, squash, there is also an athletics track and another pool.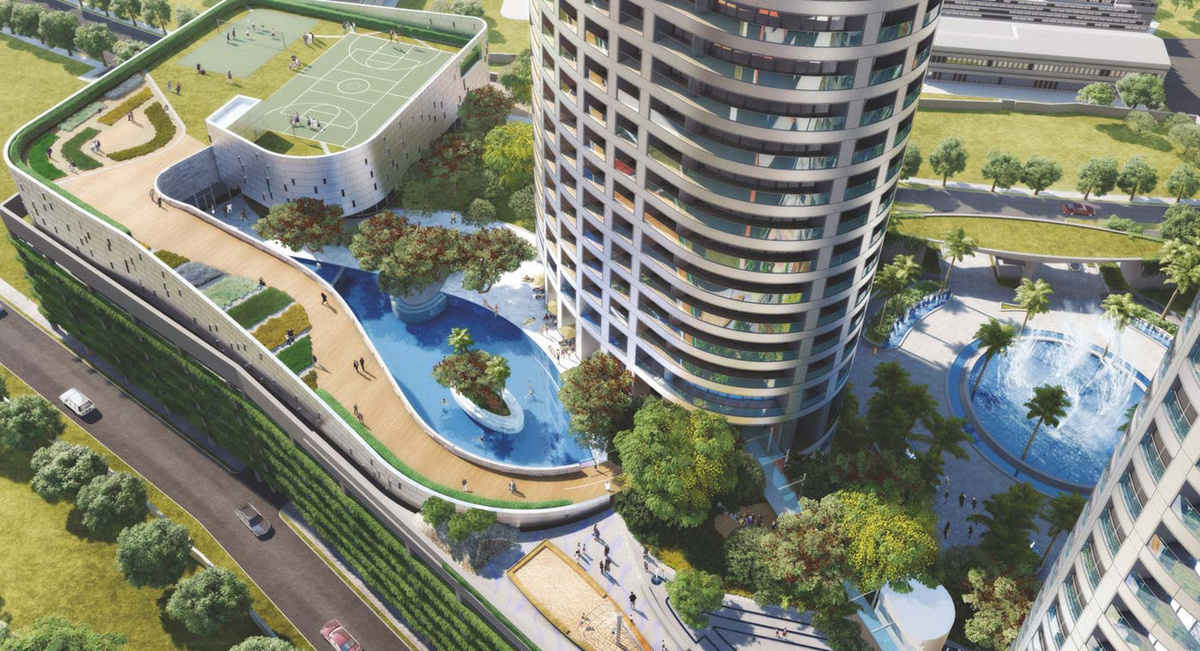 Obviously, in addition to the sports area, you cannot miss the SPA Relax area, to integrate exercise, refreshment and rejuvenation which is considered the balance of good mental and physical health. The culture of the body is nothing without the culture of the spirit and of the mind, so that there is also art and culture to satisfy intellectuals: an 'elegant art gallery, in the middle of flowering plants and trees, is prepared to accommodate temporary masterpieces, or exhibitions of famous artists. On top of the tower we finally find the observatory, dubbed 1000, which is just 1000 feet from the ground, and has a view that extends up to 60 km for every 360°, overlooking everything from the seascape to the city lights that Mumbai offers.
Eterno Ivica contributes to this important e luxurious project with its windproof system. The system is designed to establish a solid bond between the plates, supports and the laying surface: the steel screws cling inside the Eterno Ivica support passing through the scape of the plates, these are linked to the support through a stylish and robust ring steel, the base of support is an- chored in an innovative double-sided adhesive butyl shea- th hiding a compound designed specifically to adhere to a variety of waterproofing membranes, resulting in a system with a wind resistance up to now unthinkable. In particular, for the World Crest, it have been used 30.000 NM5 supports and 8.000 NM4 supports for decking installation for all terraces in the apartments.