REQUEST INFORMATION
Ask for information now. You we'll be contacted by an our appointe near to you.
Vertical angular lining clip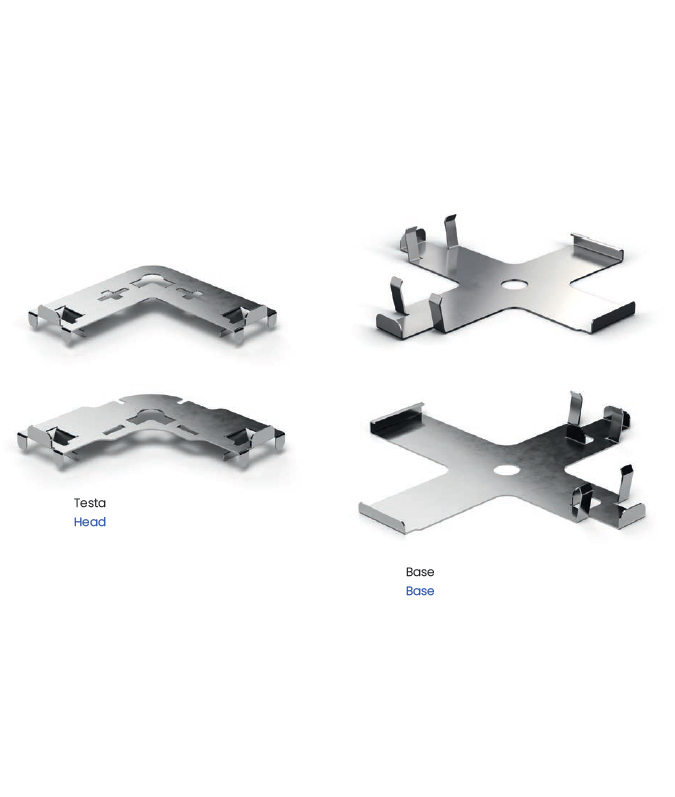 Vertical angular lining clip
This particular CLIP, both of the Head and of the Base, is used in the case of a vertical "corner" infill, instead of using two Head clips and two Base clips, a single Head clip and a single Base clip are used.
A solution consisting of two particular clips which, placed above the head and under the base of the support, specially cut at an angle, create a seat with mordants that fit the portion of the flooring trimmed to the extent of the space to be plugged. It is made of stainless steel, simple and quick to install. Thanks to this system it is also possible to create steps.
Compatible with SE - NM - SB - PR supports.
| Código | Type | Size | Pcs (Per Box) | Lista de precios |
| --- | --- | --- | --- | --- |
| P021000972 | Angular head clip PR- SE - NM - SB | d. 110 mm supports' head | 25 | Registrarse para ver |
| P021000982 | Angular head clip PR - SE - NM | d. 110/150 mm supports' head | 25 | Registrarse para ver |
| P021000912 | Angular base clip PR - SE - NM - SB | d. 110/150 mm supports' head | 25 | Registrarse para ver |
| P021000922 | Angular base clip SE - NM | d. 150 mm supports' head | 25 | Registrarse para ver |
Solicitud de información sobre: Vertical angular lining clip