REQUEST INFORMATION
Ask for information now. You we'll be contacted by an our appointe near to you.
Aluminium substructure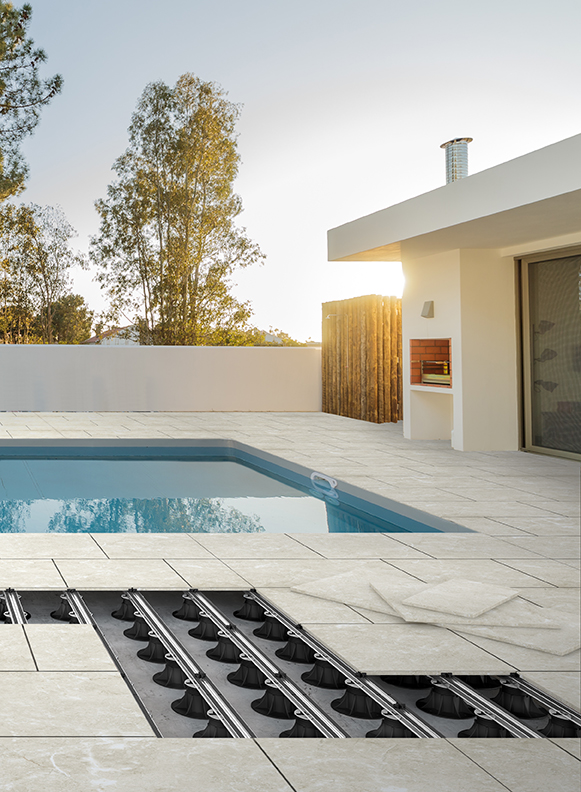 Aluminium substructure
The outdoor installation of ceramic planks is a coating solution of great charm, elegance and strong aesthetic impact, and, thanks to the versatility of the Pedestal line supports, it can be done without any problem through the system of raised installation on substructure with joists in aluminum.
Thanks to the special head that houses the aluminum joist we can guarantee excellent results in terms of safety, laying speed and stability of the walking surface. In fact, the head of the supports naturally welcomes the aluminum joists thanks to the wings that are oriented parallel to the direction of the joists, which allow them to be anchored in a simple and reliable way.
Together with the use of aluminum joists, the plastic spacers for the plates and the antinoise rubber are necessary - two essential accessories for this type of installation.
Different solutions for countless needs: the Pedestal line easily adapts to any situation by responding to the most complicated applications. A system that is always up-to-date, in step with new formats that often require higher-performance raised systems with a high degree of versatility.
Knowing the materials thoroughly to match the right support, is a basic step for a correct installation; providing a correct assembly scheme is the point of arrival of years of experience in the raised fl oor field; being able to quantify the number of supports necessary to complete a pose means simplifying a process that at fi rst sight might seem complicated.
For more information, see the guidelines on Pedestal home page:
Pedido de informações sobre: Aluminium substructure