REQUEST INFORMATION
Ask for information now. You we'll be contacted by an our appointe near to you.
Pedestal de pavimento ajustable "NM SILENT" con cabezal bicomponente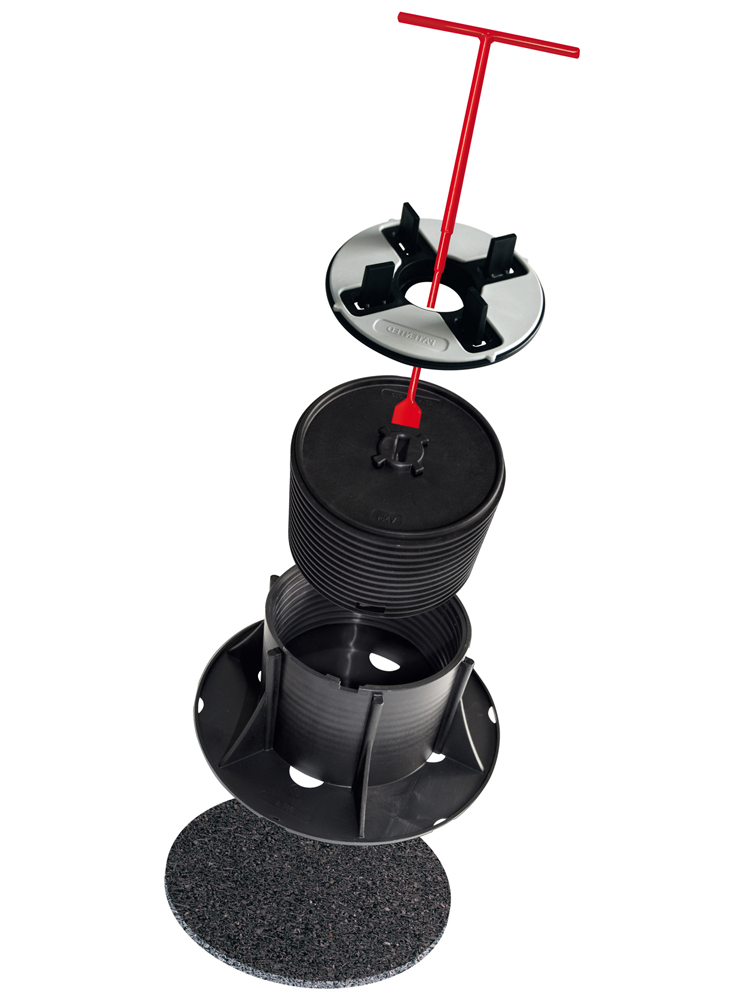 Pedestal de pavimento ajustable NM Silent
La experiencia en suelos elevados de exterior, combinada con las exigencias del mercado que se está volviendo más atento al aislamiento del sonido, ha dado como resultado la creación de una nueva línea de soportes: el Pedestal de suelo ajustable NM Silent.
Todas las propiedades técnicas del soporte ajustable New-Maxi, más la doble reducción del ruido producido por el cabezal de mezcla de pp + goma y la capa de aislamiento de espuma de 3 mm de grosor de alta densidad y célula cerrada aplicada debajo de la base del Pedestal de pavimento ajustable NM Silent. 
Estos dos elementos son capaces de reducir el puente acústico que se crea entre el suelo y la superficie de la capa, produciendo un aislamiento del sonido efectivo en la casa, con una reducción  de más de 25 db del nivel del ruido.
Características:
Ajuste con precisión de 28 a 273 mm

Posibilidad de ajustar la altura una vez que el suelo ha sido acabado, gracias a la exclusiva llave de ajuste

Cabezal con parte superior lisa antideslizante y antirruidos de goma  

Base de soporte lisa de 320 cm2 

Resistente a ácidos y al deterioro ultravioleta

Resistente a temperaturas entre -40° y +120°C

Completamente reciclable

Puede usarse en conjunto con cualquier otro pavimento exterior

Lengüetas fácilmente extraíbles
EJEMPLO DE USO
| Tamaño de la losa de pavimento | Piezas por m2 |
| --- | --- |
| cm 60 x 60 | 2,78 soportes |
| cm 50 x 50 | 4 soportes |
| cm 40 x 40 | 6,25 soportes |
| cm 30 x 30 | 11,11 soportes |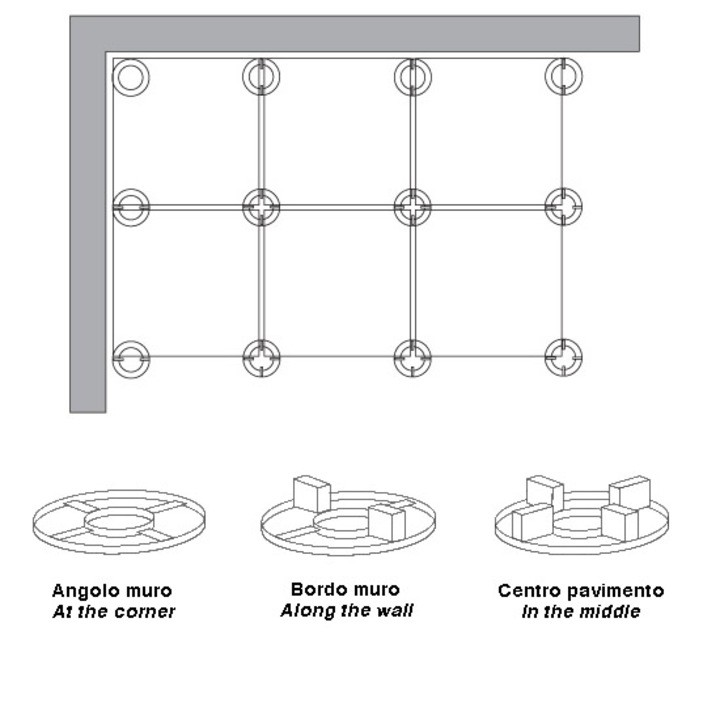 Solicitud de información sobre: Pedestal de pavimento ajustable "NM SILENT" con cabezal bicomponente