REQUEST INFORMATION
Ask for information now. You we'll be contacted by an our appointe near to you.
Pedestal de pavimento ajustable "NM SILENT" NMS 3 (63-103 mm) con cabezal bicomponente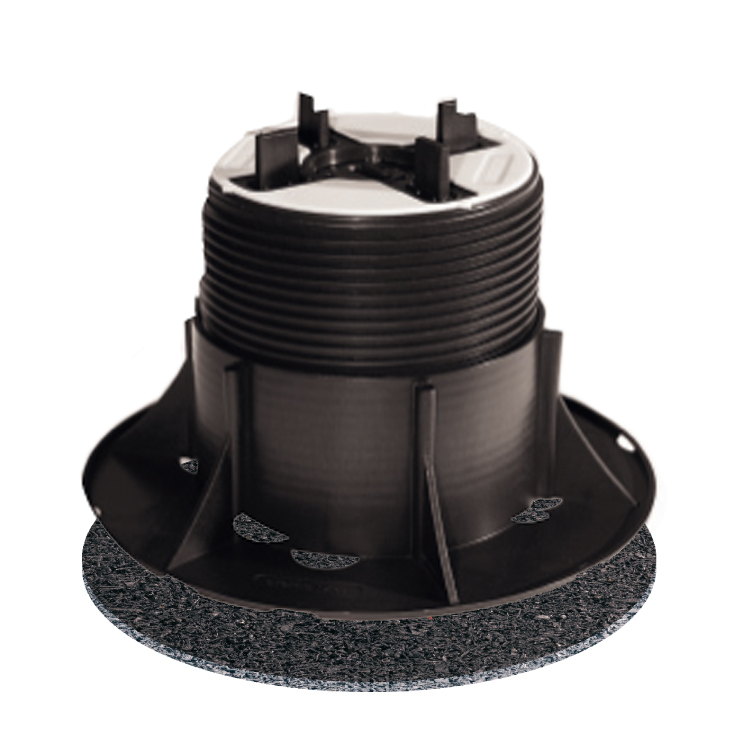 Pedestal de pavimento ajustable NMS3
El Pedestal de pavimento ajustable New Maxi NMS3 tiene una altura ajustable que va desde los 63 mm a los 103 mm. Cabezal bimaterial: prolipropinelo (PP) y goma.
Características:
Ajuste con precisión de 63 a 103 mm

Posibilidad de ajustar la altura una vez que el suelo ha sido acabado, gracias a la exclusiva llave de ajuste

Cabezal con parte superior lisa antideslizante y antirruidos de goma  

Base de soporte lisa de 320 cm2 

Resistente a ácidos y al deterioro ultravioleta

Resistente a temperaturas entre -40° y +120°C

Completamente reciclable

Puede usarse en conjunto con cualquier otro pavimento exterior

Lengüetas fácilmente extraíbles
Las lengüetas estándar tienen 4 mm de grosor y 12 mm de altura. Por encargo también pueden tener de 2 a 3 mm de grosor y 20 mm de altura.
Los códigos hacen referencia a la cabeza con lengüetas de 4 mm de grosor y 12 mm de altura.
| Código | Tipo | Tamaño | Piezas (Caja) | Piezas (Palé) | Lista de precios |
| --- | --- | --- | --- | --- | --- |
| E017063104 | NMS 3 | 63-103 mm | 20 | 720 | Registrarse para ver |
Solicitud de información sobre: Pedestal de pavimento ajustable "NM SILENT" NMS 3 (63-103 mm) con cabezal bicomponente